Creating this blog is great but working with individuals and couples is even more rewarding.  My goal is to help DIY investors become true experts in their own financial situation by providing exactly what they need at a fair price.
Questions we all need answers to:
Am I saving enough?
When can I retire?
Am I using my accounts the best way?
Should I pay off debt or invest?
Are my investments maximizing returns and minimizing risk?
How long will my money last?
What is the best way to draw an income in retirement?
What risks are there and am I managing them well?
Am I paying too much in fees?
Should I incorporate?
Money is an incredibly important part of our lives.  The only way to have confidence in our financial future is to have a thorough, unbiased financial plan.
Are you looking for one-on-one help?
If you're on this site, you're probably already managing your own money.  But is your plan complete?  Are you confident you're not missing something?  Sometimes one-on-one financial planning is the best option.  If you are just starting out on your financial journey, you can be sure you're starting out on the right foot.  If you have some experience managing your own investments, having access to professional planning software and an experienced second opinion can be a huge benefit.
Option #1: Money mentoring
Unfortunately, it can be difficult or impossible to access evidence-based, unbiased financial advice at a reasonable cost using the traditional financial services industry.   Many are paying tens of thousands of dollars per year in financial fees, often without realizing it. The norm in the financial services industry is for fees to be tied to the sale of products or "assets under management" rather than on the actual services offered.
I feel strongly that financial advice should be thorough, unbiased, and affordable.  If you have an interest in managing your own money, I can help you define your goals and create a complete plan that will get you there.  I call it "mentoring" because my goal is to help you become an expert in your own financial situation – no matter how long it takes.
The first one-hour consultation is completely free and carries no obligation.  All meetings are via Zoom from the comfort of your own home.  If you choose to proceed, there is one flat fee that covers all of the following:
cash flow assessment and plan
investment planning
debt management advice
insurance advice
retirement planning
tax planning
risk management
. . . and more
During the process, which spans four meetings in total over whatever time frame works for you, you will have unlimited access to me for questions.  Resources like spreadsheets, books, and professional-grade financial planning software reports are all yours to keep.
Taking control of your financial life is a big decision.  To find out if one-on-one flat-fee financial mentorship is for you, please email me: at contact@dividendstrategy.ca to book your free one-hour consultation.
Cost: $1300 – $2300 (+ HST) depending on complexity.  The fee is agreed upon up-front.
Option #2: Retirement projections
If you don't need comprehensive financial planning and advice, you will still benefit from running retirement projections using professional-grade software.   These are common questions that are very difficult to answer well using your own spreadsheets.
When can I retire?
Will I run out of money?
How should I withdraw from my accounts?
When should I take CPP?
How do I minimize the OAS clawback?
How can I minimize risk and maximize returns in retirement?
You don't have to hire a financial advisor to get answers to these questions.  I am happy to provide this service for one flat fee so that DIY investors can remain independent. 
How it works: I send you a questionnaire to gather the necessary information to create your first projection.  We would then meet via Zoom to go over this scenario and you get the detailed report.  After reviewing this report, you can request up to three additional projections.  What if you take CPP at 70?  Can you do that big trip you've always wanted?  What if you gift money to your children while you're still around to see them enjoy it?  You will receive comprehensive reports based on each scenario so that you can fully understand your options.
Cost: $475 (+HST) includes one 1-hour meeting and 4 projections.  Additional projections $85.
This is the best deal out there, and a service that is specifically geared toward the growing number of DIY investors who just need the last piece of the puzzle.  Here are a few sample charts that show how useful these projections can be:
Where will my income come from in retirement?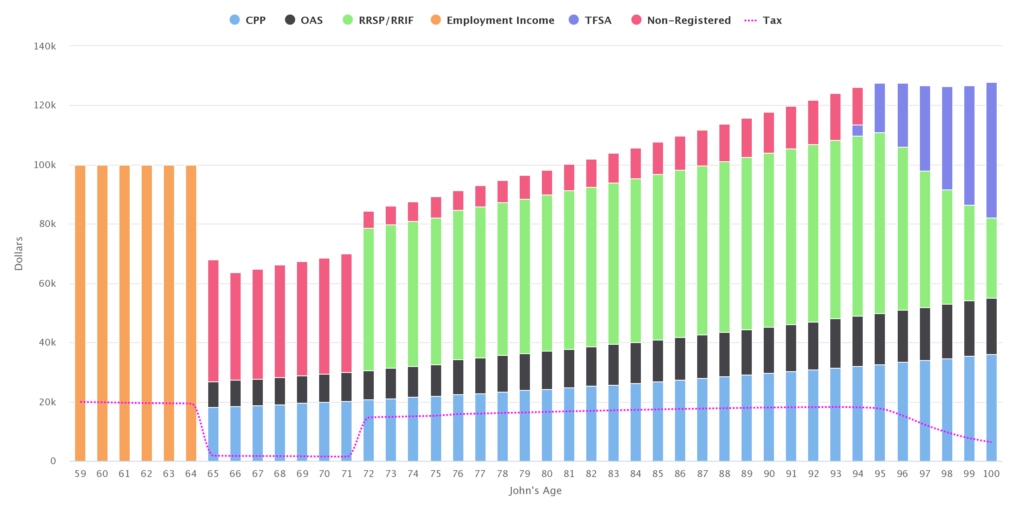 Will I have enough money?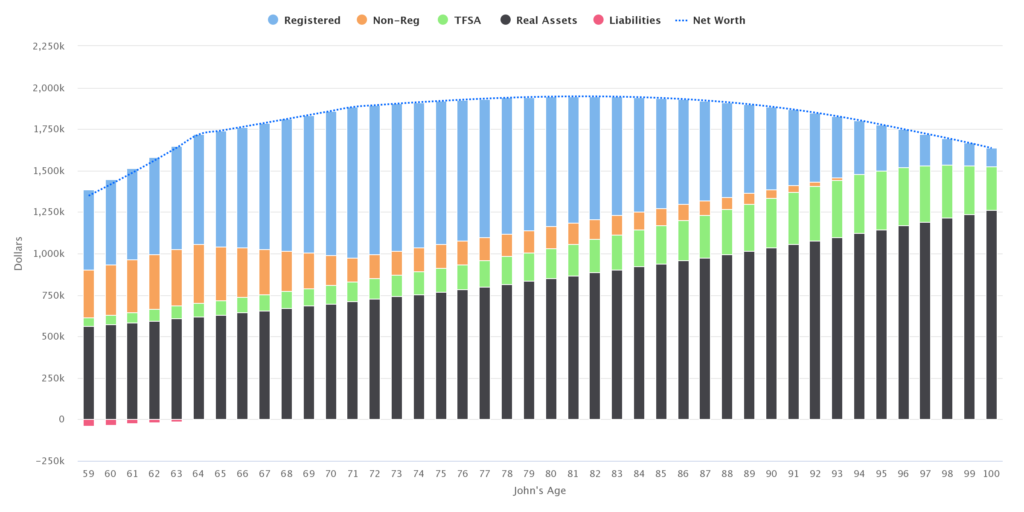 Is my net worth properly diversified?
My last post, Why I am not a Bitcoin investor, sparked a surprisingly positive response…
I have been slow to get on the Bitcoin train.  OK, actually I've kept a…
Here is an apocryphal story for you.  Its veracity may be questionable, but its impact…