What a month. Humanity is living through the worst pandemic in a century. Canada's oil and gas sector is on the ropes. And our investments have taken a beating. Is this a good time to invest in stocks?
I think so. In fact, now might be the best time to invest in stocks.
Before I explain why, first we have to acknowledge two simple but important facts:
Timing the market is a bad strategy: we don't know where the bottom is or when it will happen, and
Historically the stock market has provided superior returns to other asset classes and is very likely to continue to do so; i.e. the markets will recover.
If you think you can time the market or that you're better off burying gold in your backyard, stop reading; this is not the blog for you. But if we can agree that the stock market will likely continue to provide the highest long term returns in spite of its volatility, and that we are incapable of predicting that volatility, read on.
Think differently and prosper
As I wrote two weeks ago, stock market corrections are not a flaw of the system, but a feature. Because the stock market is a giant weighing machine, balancing fear and expectations, when fear goes up and expectations go down, stock prices sink.
But, as they say: the stock market is the only business where things go on sale and the customers leave. Humans are short term thinkers – even professionals – and we can capitalize on this fact by thinking long term. Fear and uncertainty are at their highest now, but a year or two from now it is unlikely we will be gripped by this level of instability, and the markets will reflect that.
The key question: time to recovery
So, I have a question for you: How long do you think it will take for the market to get back to where it was on February 20, 2020, it's last high? The average time to recovery after a bear market is about 18 months, but every one is different. Whether you think it will take one year, 3 years, or 5 years, we can use those numbers to calculate our expected rate of return.
At the time of writing this post the S&P/TSX is down by about 33%. Using that as a starting point, it is simple to calculate our expected rate of return based on how long it might take the stock market to recover:
| | |
| --- | --- |
| Time to recover (years) | Rate of return |
| 1 | 50% |
| 2 | 22% |
| 3 | 14% |
| 4 | 11% |
| 5 | 8% |
To many investors who are anxiously watching their balances decline, these numbers might be shocking. Losses hurt, but the flip side of that coin is opportunity. If you have money to invest, the near-term upside rarely looks this good.
Sequence of returns
Not sure about these numbers? At first it might seem strange that a 33% drop is offset by a 50% gain, but it is easy to illustrate why this is the case. Say you started out with $100 000 before the correction. After losing 33%, you would be left with $ 66 666. To get back to your original $100 000 requires a gain of $33 333, which is 50% of $66 666. If that happens over one year, your rate of return would be 50%. If it takes two years, your average rate of return would be 22% due to compounding; and so on. This is sequence of return "risk" flipped upside down.
Nick Maggiulli wrote about this concept in detail on his blog, Of Dollars and Data. His post is excellent and well worth reading. This graph illustrates the relationship more visually: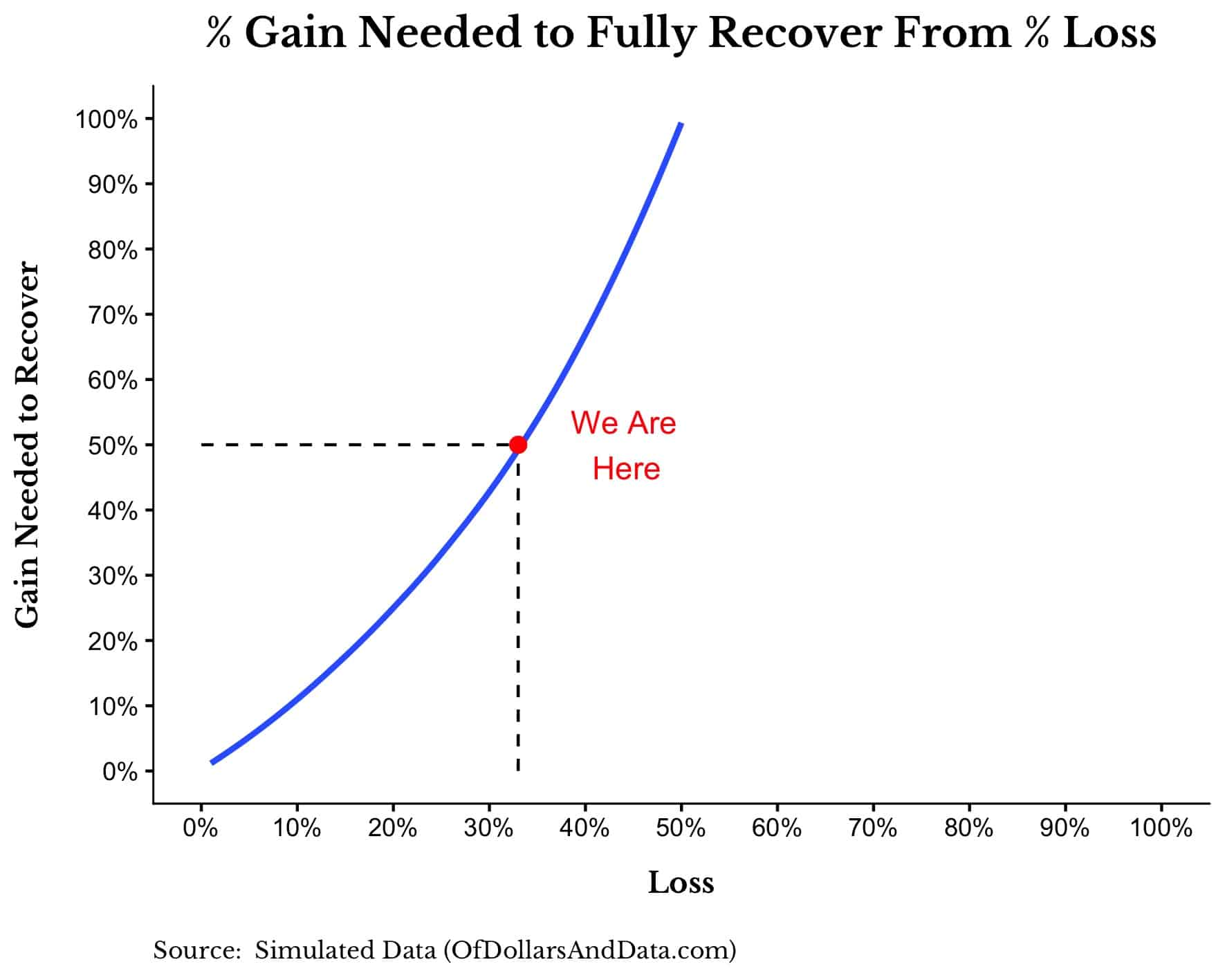 Where else can we get returns like these? Money invested now will reap greater returns than money invested a month ago: it's a mathematical fact. If you are still a little tempted to try to time the bottom of the market, you must weigh that against the risk of missing out on returns like these.
It's hard to buy low
Even before all this happened we knew that, in theory, a bear market provides great buying opportunities. What many are realizing is that theory and practice are two very different things and it is difficult to pull the trigger when there is so much uncertainty and volatility. I hope this post helps explain why buying during a market correction is not as crazy as it might feel.
On the other hand, it's important not to get greedy. Some will salivate at these numbers and be tempted to over expose themselves to the stock market, ignoring sound asset allocation or even using borrowed money. Don't go there. Stick to your plan. This could take a while and the time may come when you need liquidity. Your investment decisions mean little if your personal finances are not in order.
BTSX portfolio update April 2020
Here is our BTSX portfolio list. This one deserves some commentary.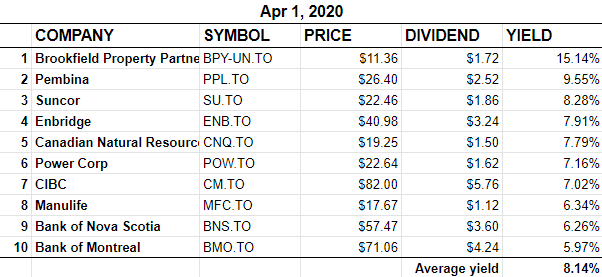 The cuts are coming
Don't be fooled by these yields: they are based on the last dividends announced and many of these companies have not made dividend announcements since the recent market carnage. Case in point: IPL, which pays out monthly, just slashed its dividend two days ago.
The massive yields on some of these stocks are due to massive stock price declines, and indicate companies in trouble. It seems likely that some of them will cut their dividends completely in an effort to shore up their own balance sheets – a prudent business decision in many cases.
Dividend cutters as investments
Because of these impending dividend cuts, I am expecting next month's portfolio to look very different from this month's. Does that mean you should sell those companies who cut their dividends? I don't know. The evidence shows that dividend cutters under-perform in the long term, but those calculations depend entirely upon the time frame in which they are measured. The chronology goes like this:
business is fine > bad news > stock price plummets > yield goes up > dividend is cut
Notice the order of events. The stock price goes down before the dividend cut is announced simply because markets react much faster than boards of directors. That is why I don't think its possible to make an investment decision based solely on dividend cuts – the price is already down. It is very possible that the market has not only taken the cut into consideration, but oversold the stock due to all kinds of other fears. Part of being an investor is assessing these changes and evaluating them in terms of our own investment plans.
No easy answers
From a behavioural finance point of view, it is well established that investors tend to hold losing stocks too long (and sell winners too quickly). On the other hand it pays to be "greedy when others are fearful, and fearful when others are greedy." As you can tell, I don't have any easy answers for you, but as for BTSX calculations, the annual review will use whatever stocks were on the list at the beginning of the year even if they cut their dividend.
Stay safe out there.