Reality will pay you back in equal proportion to your delusion
Will Smith
A few weeks ago I was interviewed again by TD Inside Investor to discuss some lessons I have learned as a BTSX investor.  You can watch the interview HERE.
We talked about the importance of diversification, the pitfalls of trying to make market predictions, and how to manage dividend cuts, among many other things.   In hindsight, the underlying theme of the conversation was one of transparency.  I firmly believe that we make better decisions when we have good information – and sometimes good information is about things that make your job harder.  DIY investing doesn't have to be complicated, but anyone who tells you it's easy is either delusional or has something to sell you.
I just think it's better to be aware of these things sooner rather than later.  And because BTSX isn't a product I'm selling, I am quite happy to discuss these things.
Even though BTSX has been a powerful tool for DIY investors to build their wealth over the last several decades, it is not without its challenges.  If you pretend they don't exist, "Reality will pay you back in equal proportion to your delusion," as Will Smith warns.
So, with that in mind, let's have a look at the mid-year (or, at least, mid-July) Beating the TSX performance.
2023 Mid-Year Update
Even though BTSX beat the benchmark TSX 60 index by 5% in 2022, overall returns were underwhelming, to say the least.  And, so far in 2023, things aren't much better with a total return of only 4.47% for BTSX and 6.04% for the TSX 60.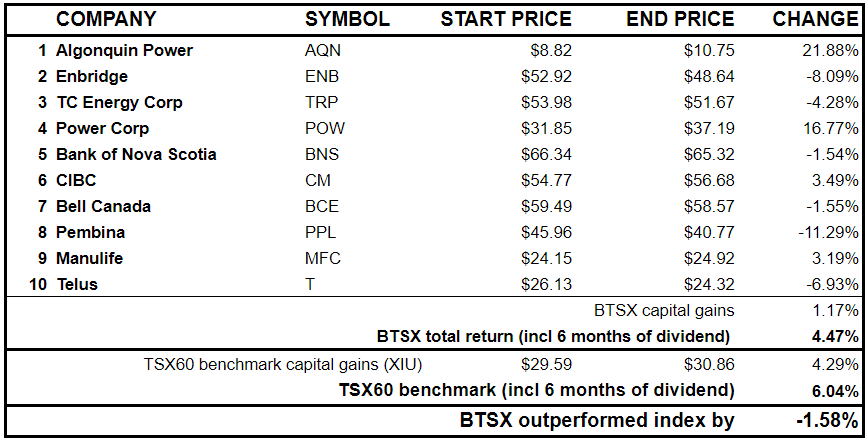 When I did the TD interview about a month ago, BTSX was beating the index.  At the time of writing this post, however, it is slightly underperforming.  Undoubtedly, prices will continue to fluctuate and it's anyone's guess where we'll end up in another six months.
Dividend Update
What doesn't fluctuate nearly as much as stock prices are dividends.  I have written extensively about the behavioural benefits of focusing on dividend income rather than stock prices.  But that doesn't mean the news is always good or that our effectiveness as individual investors won't improve if we learn to anticipate the bumps in the road and plan for them.
The good news is that eight out of the ten BTSX stocks have increased their dividends in 2023.  Enbridge (ENB) has simply maintained its dividend – probably good news for investors since the dividend is quite high already – and Algonquin Power cut its dividend by 40% at the beginning of the year, as many of you will be aware (I wrote about anticipating this cut HERE).  Even with AQN's cut, total dividend income has only decreased by about 4%.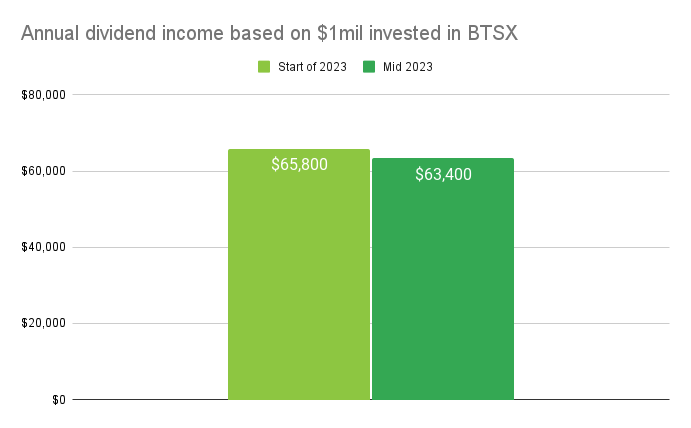 AQN: A learning experience
I discussed how I think about dividend cutters in detail during the TD Inside Investor interview because it is both challenging and interesting for DIY dividend investors.  For me, the bottom line is this: don't overthink it.  Dividend cuts are going to happen and the market knows it long before you do.  That's why the stock price goes down first: all available information is baked into the price.  The occasional dividend cut doesn't mean you did something wrong; it's simply part of being an investor, particularly a dividend investor.
Still, AQN provides a unique learning experience.  The price cratered in late 2022.  By the end of the year, AQN was trading at $8.82.  No dividend cut was announced until early 2023.  Was the cut bad news?  AQN has gained 22% since the beginning of the year – better than any other stock on the list.  In fact,  in early May it was up 35% from its earlier lows.  So, the "worst" stock from a dividend perspective has been the "best" stock from a capital gains perspective.  Humbling.
I don't know what AQN is going to do from here.  No one does.   But it's clear to me that the market is better at predicting dividend cuts than I am and BTSX is better at picking stocks.  Personally, I'm holding my AQN for the year then will reassess.
The long view
One of my favourite lines from finance writer Morgan Housel goes like this: 
"There are three legal investing strategies: you can be smarter than others, luckier than others, or more patient than others.  That's the whole list."
The market with its myriad contributors is smarter than almost any individual. This is known as the Wisdom of Crowds. Being smart confers no advantage unless you have rare inside information.
Luck is for the casino.  It is not something I want to hang the financial security of my family on.
So, I am left with patience.  Fortunately, the evidence shows that taking the long view is perhaps the single greatest advantage we as DIY investors have over the pros. 
Turns out dividend investing, and BTSX in particular has proven to be an extremely effective long-term tool as this updated long-term performance chart shows: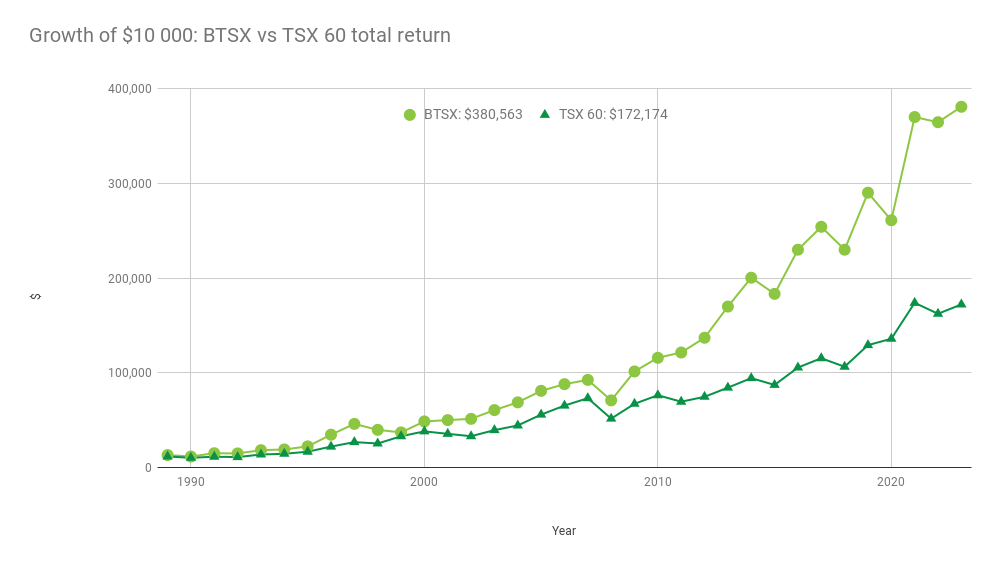 As nice as that graph looks, "Be patient" sounds trite.  How do you actually do it? 
Rather than rely on willpower, create a system in which the right decisions are the easiest decisions.  Make a financial plan that is clear, organized, and based on data rather than emotion.  It doesn't have to be perfect, but it should be simple and as automated as possible.  Put the plan into action, then take yourself out of the equation.  Plant a garden, visit with family, spend time outside.  Don't watch financial news.  Don't think dividend cuts or market downturns mean you did something wrong or should change course.
You are only in control of your process, not outcomes.  So, take this mid-year update for what it is – an interesting data point and a catalyst for some useful reflection.
How are you feeling about your investment plan these days?  What do you find most challenging about being a DIY investor?  I'm interested to hear your thoughts.
As always, I hope this blog post finds you well and helps you in some small way.
Thank you so much to those of you who have chosen to support me and this blog with your donations.  The fact is that as the blog grows, it gets more expensive to run.  I want you to know that your generosity and the thoughtful notes that are often attached to them have a huge impact on the quality of this site. 
If you are so inclined, no matter the amount, you can support this site by clicking here: