Tom is recently retired and is taking a close look at his investments.  He needs to make sure his nest egg will last.  Dividend-paying stocks make up a portion of his portfolio but another option has caught his eye: covered call ETFs. 
These products claim to offer high yields, monthly income and lower volatility than the stock market.  When Tom starts asking around he finds out that covered call ETFs have exploded in popularity in recent years.  Has he been missing out?  Is this the retirement income solution Tom's been looking for?
I've had several questions from readers about covered call ETFs over the last year because they sound so appealing on the surface.  When my own father brought it up during a recent phone call I thought it was about time I tackled the topic.
The promise
The sales pitch for covered call ETFs is powerful: stock-like returns with lower volatility and juicy monthly yields, sometimes in the double-digits.  Sounds like the perfect investment product, right?
Under the hood
To understand the claims, we need to understand how covered call ETFs work.  As you might imagine, things are not as they first appear.
A covered call is essentially a bet that a stock's price is not going to rise by more than the premium amount.  It is an options strategy in which stocks are owned and call options are written and sold.  Selling that option allows the buyer to purchase your shares at the "strike price" within a given time period.  The income is called the premium and it's taxable in Canada as a capital gain.  
How covered calls work: an example
Say you own 100 shares of Royal Bank which is currently trading at $123.  You could sell a call option for $2 per share which gives the buyer of that option the right to buy your shares at $125 (the "strike price") any time before the expiration date.  
If RY is flat or declines during this period, you would come out ahead because the $200 premium is yours to keep.  But if RY goes up to $130, you would have missed out on $300 of profit.  How?  If you sold a call option, as above, you would have received $200 for the premium and just $200 in capital gains ($125 – $123 = $2 x 100 shares) for a total of $400.  But if you had simply owned the shares, you would have received $700 in capital gains ($130 – $123 = $7 x 100 shares).
That's the key to understanding covered calls:  you are forfeiting great returns in bull markets in exchange for slightly better returns in flat or bear markets.
Still not clear?
I think it's easiest to understand how covered calls work with pictures.
Figure 1 shows the distribution of potential returns of Stock A over the duration of the call option contract.  We don't know whether the price will go up or down but the probability of modest movements is higher than the probability of big moves.
Fig. 1 Potential returns of Stock A over the duration of the call option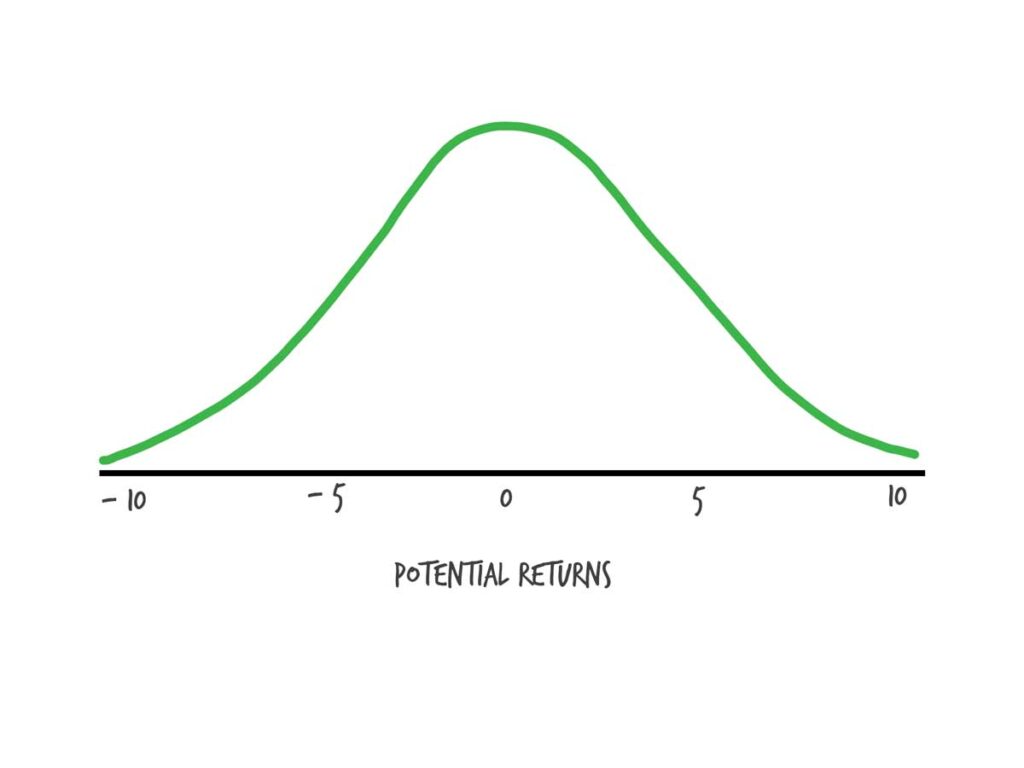 If you owned Stock A and were to sell a call option on it, the premium you receive would shift this curve to the right by the amount of the premium, as in Figure 2.
Fig. 2 The call option premium shifts the return curve to the right by the amount of the premium
But, let's not forget that if Stock A's price rose above the strike price, the call option would be exercised – i.e. you would be forced to sell your stock at the strike price, losing out on all the additional upside.
Fig. 3  Selling a call option means selling the right to gains beyond the strike price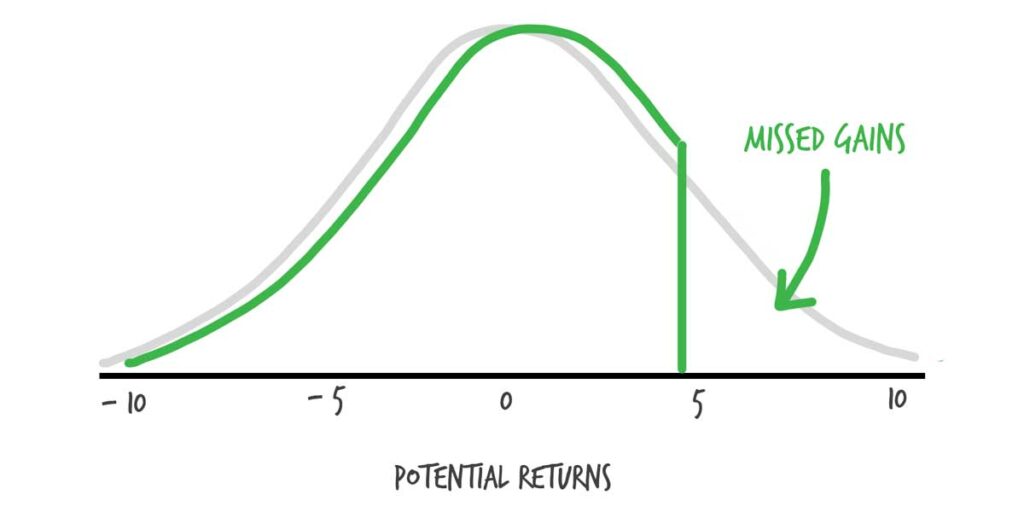 A real-world example: ZWB vs. ZEB
The sales pitch for covered call ETFs is slick, but let's do a little fact-checking of the claims by comparing the 10-year performance of one of Canada's most popular covered call ETFs, the BMO Covered Call Canadian Banks ETF (ZWB) to its plain vanilla, non-option-oriented counterpart, BMO Equal Weight Banks Index ETF (ZEB).  Here is a chart of the 10-year total return for each of these funds (ZWB is blue and ZEB is red).
Fig. 4  ZWB vs. ZEB 10-year total return

Claim 1: "Covered call ETFs provide equity-like returns"
Fact:  You are selling upside potential by writing covered calls.
Critics of covered call strategies point out that one of the primary reasons to be a stock investor in the first place is for the upside potential.  Perhaps the most obvious revelation of the chart and table above is that the covered call ETF underperformed by almost 20% over the last ten years. 
Claim 2:  "Covered call ETFs limit downside risk"
Fact:  There is no limit to downside risk with covered call ETFs
Covered calls don't provide any kind of floor for stock prices.  Your stocks will go down as viciously as everyone else's, as you can see from the chart above.  Furthermore, as the following table shows, ZWB's worst year was even worse than ZEB's. Covered calls are not a hedge against losses.
Figure 5:  ZWB and ZEB 10-year performance summary 

Claim 3: "Covered call ETFs provide high yields for income investors"
Fact:  True, but at what cost? 
Most of the yield from covered call ETFs comes from the option premiums, thus the higher the yield, the more upside is limited.  Furthermore, in some markets, those yields may vanish as call options are exercised.  Remember: the promise of high returns is ALWAYS paired with high risk of loss.
Claim 4: "Covered call ETFs provide better risk-adjusted returns"
Fact: This statement is false because it is based on the wrong measure of risk.
This is a little tricky but stick with me because it's an important concept.
The claim that covered call ETFs provide superior risk-adjusted returns is almost always based on calculations using the standard deviation of returns (usually the Sharpe Ratio).  The greater the range of returns from the average for any given investment, the higher the standard deviation – i.e. the higher the variability of returns, the more "risky" it is deemed. 
But have another look at Figure 3 – if you chop off a big chunk of upside potential, without affecting the downside risk much, your "risk" will be lowered because you've eliminated some upside variability . . . but so will your returns! 
Using more appropriate measures of risk-adjusted returns has revealed covered call strategies to be inferior to simply buying and holding the underlying equities (https://www.worldscientific.com/doi/abs/10.1142/9789812565457_0011, https://papers.ssrn.com/sol3/papers.cfm?abstract_id=277352)
Who are covered call ETFs suitable for?
If you are looking for monthly income and are happy to trade upside potential to get it, covered call ETFs might be something to consider.  ZWB's income, for example, has been consistently higher than ZEB's over the last 10 years:
Fig. 6 ZWB vs. ZEB annual income

It's worth noting, however, that covered call ETFs can't guarantee consistently high distributions.  Certainly, when yields of 8 – 14% are advertised I'd be very skeptical indeed.  There is no free lunch in investing.
Similarly, if you're tempted by the promise of "limited downside risk", think again.  You should probably consider adjusting your asset allocation before venturing into the world of options trading.  Simply lowering your equity exposure and increasing your fixed-income exposure will simultaneously generate stable income and more effectively limit downside risk – AND you can save yourself the higher MER of the covered call ETF.
If you're looking for income, capital appreciation, and lower volatility, it's tough to beat a portfolio built with BTSX stocks.  The current yield is over 6% and the long-term total returns speak for themselves.  I haven't provided a direct comparison here because BTSX portfolios contain more than just financials, thus it wouldn't be an apples-to-apples comparison.  But I have tackled the topic of risk-adjusted returns in the past, and dividend-based investment approaches tend to shine because of their higher total returns and lower volatility.
What should Tom do?
Tom wants income security so that he can enjoy his retirement now.  He also wants his investments to grow so that he never has to worry about running out of money.  Even though covered call ETFs promise high monthly income, that income comes at the high cost of weak long-term appreciation. 
These are complex investment products and one of the lessons I've learned over the years is that complexity is almost always associated with both higher costs and worse performance.  The research supports this conclusion.  
Fortunately, there are simple, effective alternatives that Tom can employ: appropriate asset allocation, adequate diversification, some stable blue-chip dividend-paying stocks, and a "retirement bucket" system that will ensure Tom's spending needs are taken care of without the need for complicated, costly investment products. 
As always, I hope this post helps you feel more competent and confident moving forward with your financial plan.  If you're struggling to apply what you're learning to your own situation and would benefit from unbiased one-on-one help, you can read about my mentorship program HERE.
If you are just starting out on your investing journey, feel free to use all the resources on this site completely free of charge.  If you're a little further along and would like to support my efforts, please consider clicking this button to make a donation.