Happy New Year, dividend investors!  I'm looking forward to crunching the numbers for our complete 2021 BTSX update over the next few days.  In the meantime, if you've been paying attention to your dividend announcements, you might already have a smile on your face: Canadian dividend investors got a big raise in 2021, and Beating the TSX stocks led the charge.  
BTSX stocks grew their dividends in 2021
Eight out of our ten 2021 Beating the TSX stocks raised their dividends, with an average dividend increase of 9% – well over the rate of inflation.   CNQ shocked a few of us with a 38.24% annual dividend increase, while our three financials, POW, CM, and BNS came in with impressive 10-11% raises.  Only PPL and SJR.B did not raise their dividends.  There were no cuts.
The total dividend yield at the beginning of 2021 was a healthy 6.13%.  If you were lucky enough to have $1million evenly invested across those stocks, assuming none cut their dividends, you would have enjoyed a passive income of $61 300 for the year – not too shabby.  With the dividend increases, however, that income rose to $66 400.  That's $182 of income every single day for doing nothing.
Is this dividend growth normal?
Such juicy dividend raises inspired me to investigate a simple question:  What is the average rate of dividend growth for BTSX stocks?  To answer this question, I looked back at the last ten years of BTSX dividend data.  I expected an average dividend growth rate of 4-5%.  The actual average annual dividend growth rate?  Only 1.4%.  Ouch.  I dug deeper.
Here are the average annual dividend changes over the last ten years.
But the story is not in the averages, it's in the individual stocks.  Specifically, it's about the dividend cutters.  Over the last ten years, 73% of BTSX stocks have increased their dividends,  while only 6% of BTSX stocks have cut their dividends.  
But here's the kicker: The average raise was 7.34% – wonderful.  In contrast, the average cut was a devastating -66.07%.  That's not a papercut; that's a chainsaw injury.
Don't ignore what you don't want to see
As you can see, 2013 was a particularly bad year.  Even though half the BTSX stocks raised their dividends (BMO, NA, CM, BNS, and BCE), three put their dividends on the chopping block (IMG, ABX, TA).  Average BTSX dividends that year fell by 17.64%.  That kind of portfolio injury can be disabling if not planned for.
The other three BTSX stocks to cut their dividends in the last ten years?  CVE in 2015.  POT (now NTR) in 2016.  And IPL in 2020.
There are plenty of bloggers drinking the Kool-aid and pounding the table extolling the virtues of their chosen investment strategy while ignoring potential weaknesses.  Even some of the big names in Canadian dividend investing haven't been immune.  It's a great way to grow an audience (and a profit). But I refuse to do it because it's also a great way to hurt investors.  If I make a little money at this blog, that's great, but what I really want is for you to make a lot of money.  I believe the best way to help you do that is to help you understand the whole picture.
Can we learn from the cuts?
If dividend investing was a slam dunk, everyone would be doing it.  It's profitable because there are trade-offs.  We have to be willing to examine our weaknesses if we are to find ways to compensate for them.
Here's the bottom line: our 9% dividend growth in 2021 was great, but dividends are not a sure thing.  Dividend cuts happen and it's foolish to think you'll always see them coming.  
The long-term total return of dividend-paying stocks is truly impressive.  Since 1986, dividend-payers in Canada have had average annual total returns of 9.1%, beating the S&P/TSX index by 3%.  But dividend cutters have underperformed the index by 3.2% annually with compound annual returns of only 2.9%.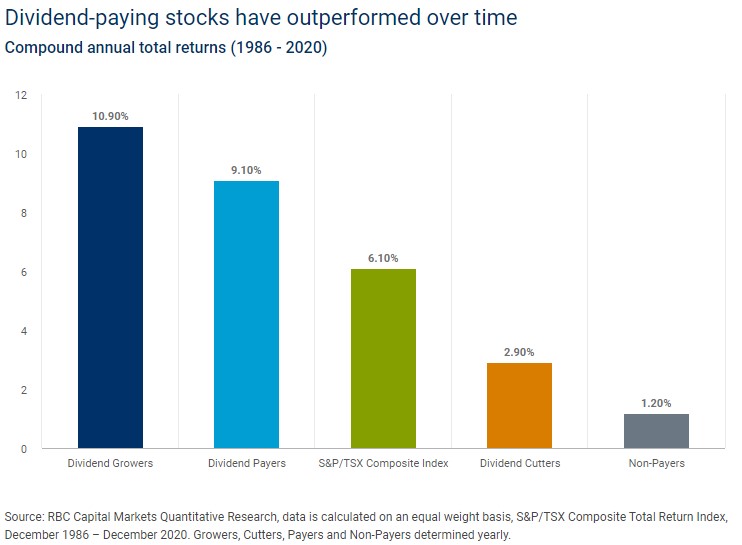 The obvious question is whether or not we can identify those companies that might cut their dividends and choose not to invest in them.  That's easier said than done. You can, and should, look at dividend history and payout ratios, not to mention free cash flow and earnings growth, but even these metrics are only marginally helpful.  I can see at least two caveats.
1. Where do you draw the line?  Because BTSX selects for stocks with high yields, it is biased toward those companies with depressed stock prices (yield = dividend/price).  Why are the prices depressed?  There can be all kinds of factors, but there's always some reason to worry. 
Paradoxically, this is not a fault but a feature of the method.  By selecting based on yield, we tap into the value factor.  BTSX is, by nature, contrarian.  Popularity and prices are correlated.  Fortunately, there is ample evidence that, over time, unloved value stocks tend to outperform.  The problem is, sometimes they don't – and it can be hard to tell one from the other.
2. Running toward safety means running away from value.  Choosing only "safe" stocks might exclude some of those deep-value stocks with the greatest upside potential.  For example, the stock with the biggest total gain in 2021 was CNQ, which was up 80+% (74.7% capital gain + 5.5% dividend).  How many of us were feeling that the oil and gas sector was a safe and secure place to invest our hard-earned money at the beginning of 2021?  So, even if we can identify "safe", "quality" dividend payers, excluding riskier stocks leaves little assurance that our returns will match up to the long-term performance of Beating the TSX.
Despite all of this, BTSX's track record speaks for itself
Over the past 30 years (including 2021), BTSX has had an average annual total return of 13.13% vs 10.46% for the benchmark index.  So, there's certainly an argument to be made for simply sticking with the process; BTSX seems to be tapping into factors that lean toward outperformance.
But it also seems there's a price to pay, and at least part of that price is the potential for dividend cuts.  This is not a "bad" thing, simply an explanation for why BTSX works.  It's also something you need to be aware of if you are a dividend investor, in particular if you are relying on dividends to fund non-discretionary spending.
This data will not change the method I use to select BTSX stocks or to track the method's progress, but it may change how individual investors choose to use BTSX as they build their portfolios.  
Remember:  BTSX was never meant to be followed dogmatically unless that is done with full awareness of the risks involved.  Rather, BTSX should usually be used as a tool to identify potential investments.  Personally, I would rather avoid stocks whose dividends appear at high risk, even if it means accepting a lower initial yield and lower upside potential.  But that's just me.  I hope this post has given you a fuller understanding of dividend growth and dividend safety, especially as it pertains to BTSX stocks.
If you found this post informative and/or helpful, please consider donating to help with the cost of running this blog.  Don't forget, half of all donations are given to Doctors Without Borders.
Here's the list of BTSX stocks for 2022