Welcome to the long-awaited Beating the TSX annual update!
North American investors have been shaking their heads and shrugging their shoulders at the stock markets during this pandemic – usually accompanied by a cautious smile.  Gut-wrenching drops in 2020 were followed by the fastest gains ever.  Sitting on the edge of our seats, we waited for the other shoe to drop only to witness a gravity-defying bull market that just wouldn't quit, even as we sputtered through wave after wave of COVID-19.  
As a do-it-yourself investor, it's all just a reminder that I'll never be able to make reliable short-term predictions about stocks.  But that's okay because it's the long term that matters. The greatest advantage individual investors have over the industry pros is that we can ignore the short-term noise and adopt a solid long-term investment plan.
Beating the TSX method
That's what Beating the TSX is – a long-term plan.  Created by David Stanley in the 1990s, BTSX is a simple method that anyone can use to identify Canadian blue-chip dividend-paying stocks that might be worthy for your portfolio.  Here is the method:
List the stocks on the TSX60 by dividend yield.

Select the top 10 yielding stocks

Purchase those stocks in equal dollar amounts and hold for a year
The method usually results in a portfolio of stocks with several appealing characteristics:
They are large (and usually stable)

They have a high dividend yield

Most have a long history of stable and growing dividends

They are often purchased when their stock prices are depressed
Beating the TSX 2021 results
Beating the TSX doesn't always beat the index.  At this time last year, I was writing about 2020 which was BTSX's second-worst year ever, when it lagged the benchmark TSX60 index by 15%.  Of course, periods of under-performance are to be expected with any investment method, even evidence-based ones.  In last year's article, I put this sentence in bold: A good investment plan is not one without periods of underperformance, but one that is durable enough to recover and outperform. 
. . . And that's exactly what has happened.  BTSX investors have enjoyed stellar results in 2021.  Here are the numbers and the comparison to our benchmark index (represented by the XIU.T ETF):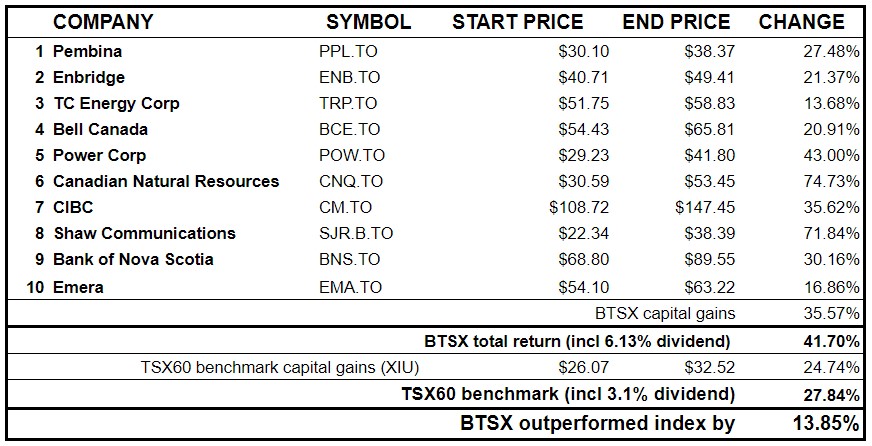 The TSX60 had a great year with a total return of 27.84%, but Beating the TSX crushed that number with a total return 50% higher, at 41.70%.  This is the third-best year for BTSX since 1987, in terms of absolute gains.  Only 1996 (54.9%) and 2009 (42.9%) posted better returns.
As you can see from the chart above, BTSX outperformed the index by 13.85% – a great boon for Canadian dividend investors.  Since 1987, BTSX has lost to the index eleven times, tied once, and beat it twenty-two times.  But only three years – 1991, 1996, and 2000 – have seen outperformance superior to 2021.
Thirty-four years of BTSX returns
One year of great returns is a thrill, but a thirty-four-year period of better-than-average returns is where the real power is.  If you had invested $10 000 in BTSX stocks 34 years ago, you would now have $369,752 – over double what a TSX60 index investor would have (in both cases total returns re-invested).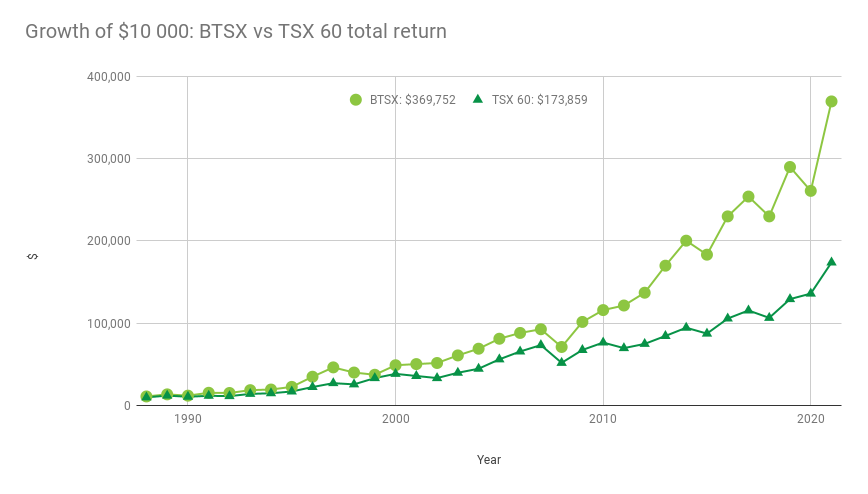 What about periods between one year and 34 years?  Beating the TSX has indeed beaten the index over the last 3, 5, 10, 20, and 30 year periods.  How many mutual funds do you know of with a track record like this?
High returns with some variability
Is there a price to pay for this outperformance?  Of course.  With only ten stocks in the portfolio, under-diversification is a valid concern.  So few holdings can also lead to a higher dispersion of returns.  And dividends are not guaranteed, as we recently discussed.  For those reasons, many investors use BTSX stocks as part of a balanced and diversified portfolio.
Nevertheless,  BTSX has a strong history of beating the index, with a few notable exceptions. The following chart shows how BTSX has performed relative to the TSX60 index year by year; 2021 is at the top and 1987 is at the bottom.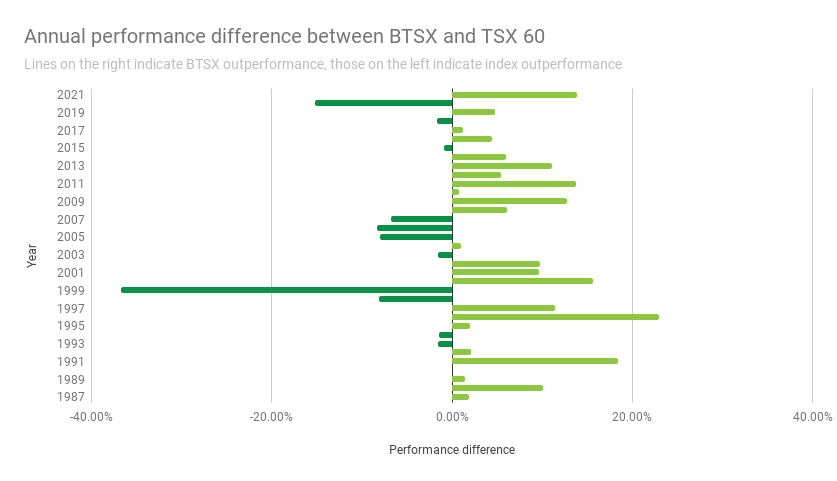 When it comes to volatility, dividend investors have a secret weapon . . . Actually, it's not much of a secret: our dividends protect us.  How?  When you're investing for dividends, it's those payments that matter, not the stock price, and the only way to keep those payments coming is to buy and hold.  This is a powerful behavioural aid helping us to stay the course when times get tough which, as we all know, is one of the biggest factors in successful investing.
BTSX Dividend Income
2021 was a particularly good year for BTSX dividend income.  Eight out of the ten stocks raised their dividends during the year, with average dividend growth for the portfolio of 9%.  If you were lucky enough to have $1 million invested in our 2021 BTSX portfolio, your anticipated dividend income for the year would have been $61 300.  By the end of the year, thanks to dividend growth, that income rose to $66 400 – take that, COVIDflation.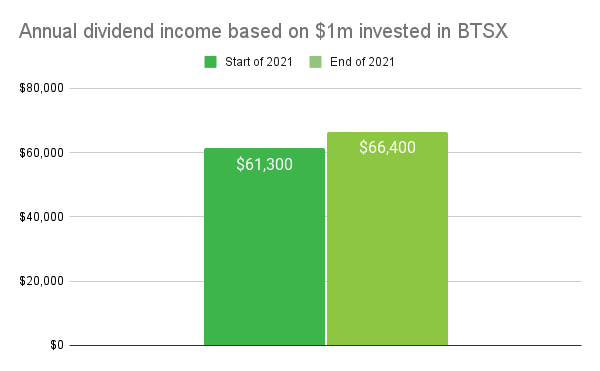 Beating the TSX 2022
Returns aside, here is what I like best about Beating the TSX:  it is simple, rules-based, and transparent. There is no special skill required, no cherry-picking stocks, no paywall. 
If you are interested in trying Beating the TSX for part of your portfolio this year, why not keep your investments organized by opening a new account with Canada's top online brokerage, QTrade?  I've been using them for over ten years and wouldn't think of switching.  Right now they have a pretty juicy cashback offer for readers of this blog.  (Using these links may result in a benefit to DividendStrategy, but the recommendation is 100% authentic)
Whether you're already using BTSX or new to the game, here is this year's list of stocks, generated based on closing prices and yields on December 31, 2021.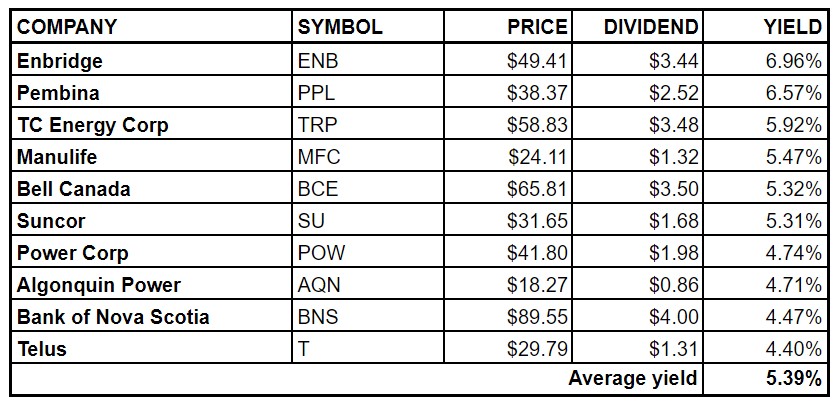 If you found this post informative and/or helpful, please consider donating to help with the cost of running this blog.  Don't forget, half of all donations are given to Doctors Without Borders.
All the best in 2022!  If our investments perform half as well as they did in 2021, we'll still be smiling 🙂