There are some questions that are difficult for DIY investors to answer themselves.  One that comes up fairly frequently when I mentor people who are close to retirement is when to apply for Canada Pension Plan (CPP) retirement benefits.
Consider this simple case:
Peter is a 57-year-old sales rep who plans to retire in three years when he turns 60.  He makes $65 000 per year and has saved $825 000 in his RRSP.  He owns his home, but has no other assets or liabilities.  He is healthy and expects he'll enjoy an average lifespan, maybe longer.  When should Peter take CPP?
First of all, if you're asking this question, congratulations – you're already way ahead.  Many advisors and investors think of the Canada Pension Plan as a simple and static top-up to other sources of retirement income – simply apply at the standard age of 65, or earlier if retiring early, and enjoy the additional inflation-adjusted income until death.  But this is not the whole story.  CPP can be taken as early as age 60 or as late as age 70, and that decision can have a big impact on both your lifestyle and peace of mind in retirement.
Some things you might not know about CPP
CPP is a contributory plan meaning it is financed through contributions, not tax revenues.  It is managed independently of the government and is in very good shape – i.e. it

will

be around when we need it

Employees and employers contribute equally to the plan (self-employed individuals have to contribute both parts).  Contributions are compulsory for Canadians between 18 and 65 who have earned more than the "year's basic exemption" (YBE), which is $3500 in 2022.

You can find out what your CPP payments will be by creating/logging on to your

My Service Canada

account

For every month CPP is taken

earlier

than age 65, the amount is decreased by 0.6%, i.e. taking CPP at age 60 will result in payments that are 36% less than they would be at age 65

For every month CPP is taken

later

than age 65, the amount is increased by 0.7%, i.e. taking CPP at age 70 results in payments that are 42% more than they would be at age 65 (Actually, because of the way CPP is calculated, this report shows that delaying CPP until age 70 results in payments that are about 50% more)

CPP has a disability benefit if a contributor is disabled during the contributory period

CPP has a survivor benefit, which is usually 60% of the deceased contributor's pension, not exceeding the maximum CPP benefit amount (if the survivor is > 65)
When should Peter start his CPP?
Now that you know how CPP works, let's look at three scenarios from Peter's case above.  For each of these scenarios, we will assume Peter has an 80/20 portfolio in his RRSP, and that his CPP contributions have resulted in CPP payments that are 75% of the maximum (if taken at age 65).  We will also assume Peter is going to live until 90 years old, that inflation averages 2% per year, and that his main priority is cash flow in retirement, not the size of his estate.
One of my favourite features of the planning software that I use is that I can calculate the sustainable level of annual spending for any given client scenario – i.e. how much one can safely spend without running out of money.  We can use this feature to make direct comparisons between different CPP start dates for Peter.
1. Start CPP at age 60
Most people simply start receiving CPP when they retire.  Since Peter is retiring at age 60, let's see what his sustainable income would look like if he started his CPP at the same time.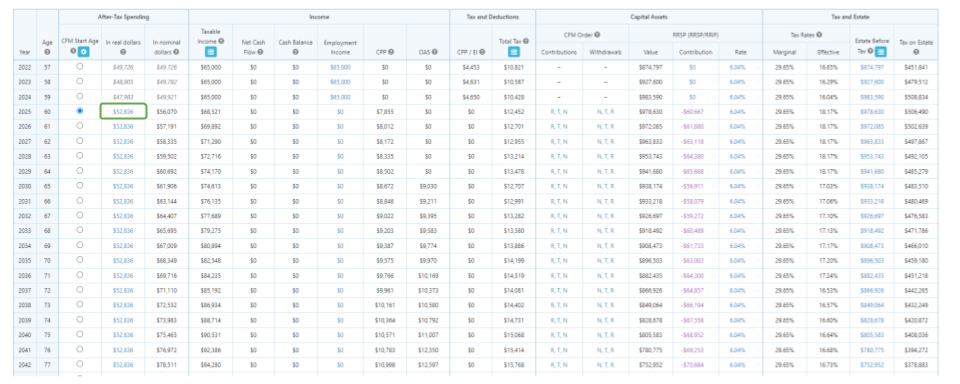 My apologies for all the small numbers – this is the back end of the planning software that I use; it's powerful, but it's busy!  In case you can't make it out, Peter's sustainable after-tax spending in real dollars would be $52,836 annually if he were to start drawing on CPP when he retired at age 60.  In nominal dollars, he'd be able to spend $2,375,602 in total during his retirement, $332,873 of which would come from CPP. 
2. Start CPP at age 65
Many people are tempted to take CPP early because they think they will be able to enjoy higher spending levels early in retirement.  I understand this perspective but if you also want to ensure similar levels of spending through your 70's and into your 80's, taking CPP early can be counter-productive.  If Peter were to defer his CPP payments until the usual age of 65, he can actually spend more, not less.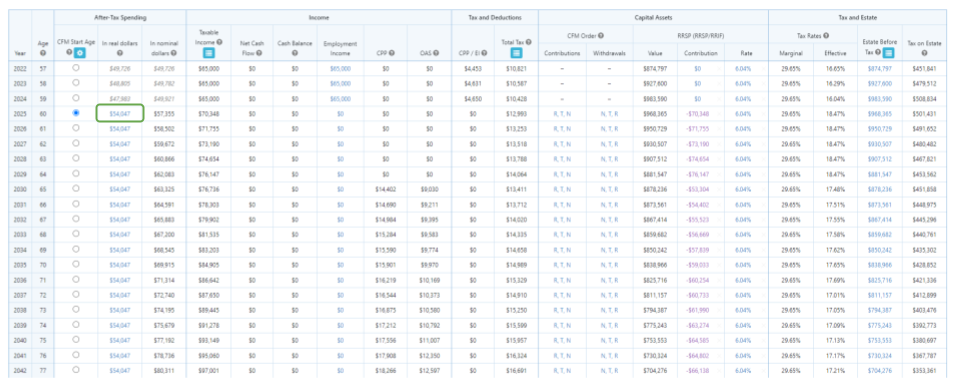 As you can see, by delaying CPP payments by 5 years, Peter's sustainable after-tax spending in real dollars would be $54,047 annually if he were to start drawing on CPP 5 years later at age 65.  In nominal dollars, he'd be able to spend $2,429,707 in total during his retirement, $484,941 of which would come from CPP.
3. Start CPP at 70
Less than 5% of Canadians defer CPP/QPP payments past age 65, and fewer than 2% choose to delay until age 70 (source). I get it – it's counter-intuitive to draw down the RRSP you've worked so hard to build and, at the same time, defer a government benefit that is there for the taking.  But by running the numbers we can see that deferring CPP can actually put more money in our pocket during retirement.
If Peter were to defer his CPP until age 70, he'd be able to safely spend even more through his retirement.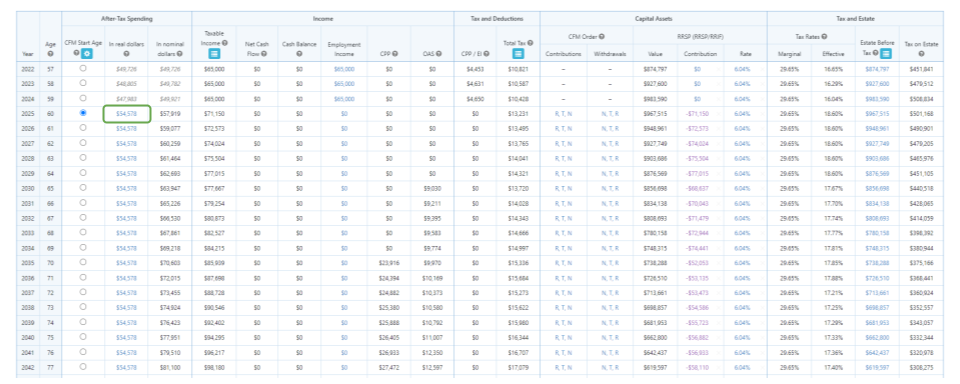 By delaying CPP payments until age 70, Peter's sustainable after-tax spending in real dollars would be $54,578 annually.  In nominal dollars, he'd be able to spend $2,454,224 in total during his retirement, $616,636 of which would come from CPP.
The main trade-off of delaying CPP is that the value of the estate is lower.  This is because RRSP funds are used to "bridge" until the increased CPP payments start coming in.  Only you can decide if retirement income or the size of your estate is the greater priority.
Here is a comparison of all three of Peter's scenarios.  (I have compared the value of Peter's estate at age 80 since that is his approximate life expectancy.)

More advantages of delaying CPP
The advantages of delaying CPP don't stop at increased retirement spending.  One common headache for some retirees is when mandatory minimum RRIF withdrawals are in excess of what they require for their lifestyle spending needs.  Sometimes this means increased OAS clawback, and it always means more income tax to be paid.  Delaying CPP means drawing down the RRSP balance before conversion to RRIF status at age 71, thus lowering subsequent minimum withdrawals, potentially saving tax and preserving OAS.
What is the biggest risk that retirees face? – the risk of running out of money (longevity risk).  Thus, the more of your annual retirement income that is guaranteed, the better.  One under-appreciated but incredibly important benefit of delaying CPP is that it essentially converts risky assets (the securities in your RRSP) into a guaranteed income stream (CPP payments). 
What would this mean for Peter?  In his 80th year, 41% of Peter's income would be coming from guaranteed CPP/OAS payments if he deferred CPP until age 70, vs. only 25% if he chose to take CPP at age 60.  If Peter is concerned about running out of money in retirement, delaying CPP gives him a simple and effective way to address that fear.  To me, this is one of the biggest reasons to delay CPP.
Related:  Dividend investing and risk-adjusted returns
Should everyone delay CPP?
Let's be clear: this doesn't mean everyone should delay CPP.  If you've been forced to retire early and simply have no other way to support yourself, CPP payments in your 60's may be essential.  But the biggest reason to take CPP early, and my apologies if this sounds morbid, is if you don't expect to live an average (or longer) lifespan.  All of our scenarios above assumed that Peter would live until 90, but what if he had a medical condition that lowered his life expectancy? 
Here is a table showing the "break-even" ages for starting CPP at various ages.  The "break-even" age is the age beyond which you would have been better off delaying CPP.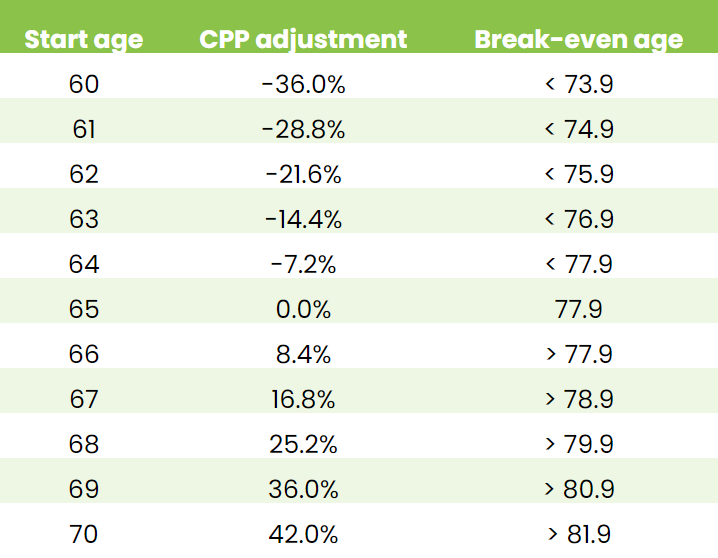 So, if you have no reason to expect you'll survive past 74, perhaps taking CPP at 60 would be a good idea.  But if you survive beyond 82 years old, it's usually in your best interest to delay CPP until age 70, thereby increasing all your CPP payments by 42%.  (Of course, situations vary with respect to taxes, claw-backs, and other sources of income, however, so this should be confirmed on an individual basis.)
But here's an important point:  it's not really about how long you expect you might live, but rather to what age you are making your financial plan, i.e. How long do you want to ensure your money will last?  For example, you might not expect to live past 75, but you might not sleep well at night unless your financial plan is secure until the age of 85.  If that's the case, delaying CPP can still make a lot of sense because your CPP payments would be 120% higher by taking CPP at 70 vs. 60.
Why don't traditional advisors suggest delaying CPP?
If delaying CPP is so advantageous for so many people, why don't financial advisors suggest it?  As usual, the answer lies in how they're paid.  Unless advisors charge a flat fee, their compensation is based on commissions for products they sell or is based on the balance of your accounts with them.  Either way, spending down your RRSP early in retirement is not in their best interest, so, unfortunately, there are very few who will recommend this strategy.
How to know if delaying CPP is right for you
The choice of when to start CPP can be a tough one for many self-directed investors.  I hope that this article is helpful in that regard.  If you think you'd benefit from some one-on-one help running projections with your own numbers, my recommendation is to seek out a flat-fee financial advisor or coach.  You can find out more about my financial mentoring options HERE.
If you are just starting out on your investing journey, I sincerely hope that the free information on DividendStrategy.ca is helpful for you.   But if you are financially secure and are looking for a way to support my work, you can safely make a donation by clicking this button.  Half of all contributions are donated to Doctors Without Borders.