I am no stock analyst, I just play one on this blog (from time to time). With a recent shake-up of the TSX 60 index, Encana (ECA) is out and Brookfield Property Partners L.P. (BPY.UN) is in. BPY sports an impressive 7% dividend placing it second in our BTSX portfolio. This is the first time that a real estate company has appeared in the BTSX, but is it a good investment?
This is my quick take on BPY.UN as a DIY investor who is primarily interested in healthy, growing dividends. This is not meant to be an exhaustive analysis, rather a concise (amateur) investigation of the relevant factors as I see them.
Here's the quick and dirty on BPY.UN:
Dividend yield: 7.03% (as of Feb 3, 2020)
primarily a U.S. commercial real estate company, with international holdings
approximately $122 billion in total assets.
paying dividends since 2013
dividend growth rate approx 4%
Dividend payout ratio: 87%
P/E ratio (trailing): 17.54
Market Cap $23.5 billion
Business overview
Brookfield Property Partners is the wholly owned real estate subsidiary of Brookfield Asset Management. It was spun off from its parent company in April 2013. The following description is from their website:
Brookfield Property Partners (NASDAQ: BPY, TSX: BPY.UN) ("BPY") is a diversified global real estate company that owns, operates and develops one of the largest portfolios of office, retail, multifamily, industrial, hospitality, triple net lease, self-storage, student housing and manufactured housing assets.

https://bpy.brookfield.com/
The company's core business consists of 136 office properties and 123 retail properties totaling over 200 million square feet. This represents 85% of its balance sheet. BPY also has 13 million square feet of additional projects underway. The majority of BPY's holdings are in the U.S. with additional properties in countries such as China, the UK, Australia, Dubai, and Canada.
BPY tries to buy real estate at a steep discount that is out of favour with other investors. It then develops these holdings and attempts to sell them at fair market value down the road. The huge acquisition of General Growth Properties in 2018 was a great example of this contrarian approach: as an owner of a large collection of enclosed malls GGP may turn out to be the deal of the century or a casualty of the retail apocalypse. Brookfield is betting that the fears are overdone. Investors should understand the risks involved.
BPY's financial picture
Click HERE for the recently published full year 2019 financial results.
When it comes to REITs, a good way to gauge financial health and stability of the dividend is a metric called "funds from operations" or FFO. Funds from operations is a standardized industry term defined by the National Association of Real Estate Investment Trusts. It's defined as GAAP net income + depreciation and amortization – gains from property sales. FFO is more important than earnings for REITs because depreciation and amortization are deducted from net income.
BPY's funds from operations for 2019 were $1.5 billion (vs. $1.6 billion for 2018). With roughly $1.3 billion being paid out in dividends, BPY's dividend payout ratio is 87%.
Brookfield funds new projects with debt. I can't find data for 2019 yet, but in 2018 total liabilities increased by 50%, the majority of which was an increase in long term debt.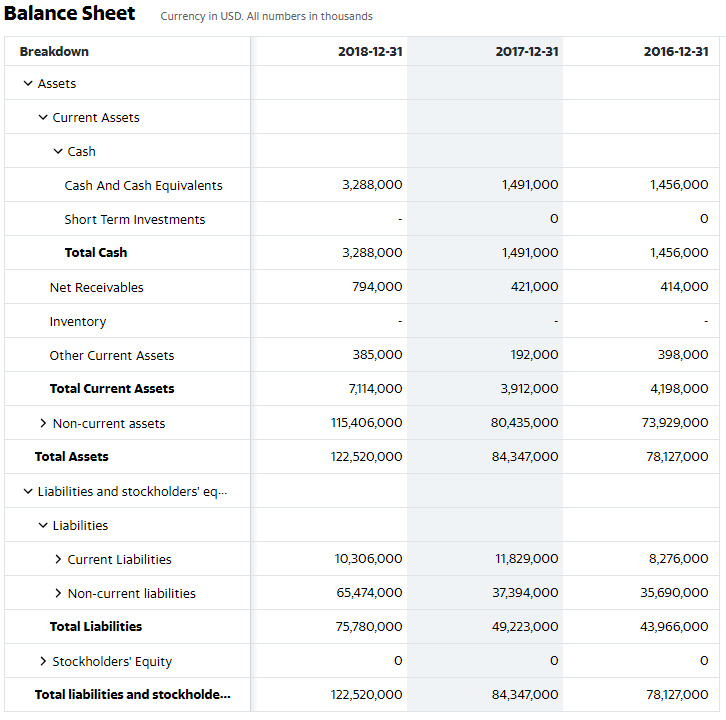 Of course, interest payments must be made on this long term debt. BPY is also obligated to pay its parent company, Brookfield Asset Management a management fee of approximately $45 million annually. On top of this, there are operations and maintenance costs involved in running their real estate empire. So, even though funds from operations seem adequate to cover the dividend, there are reasons to question it's sustainability.
Brookfield Property Partners as part of BTSX
A common criticism of Beating the TSX is that it lacks diversification. I am working on a blog post explaining why I don't think this is necessarily a weakness, but for those who accept the premise that more diversification is better, having some real estate exposure in the portfolio may be a positive development.
If you're seeking exposure to the real estate market, specifically the commercial market, BPY might be a good option. With assets of $122 billion and a market capitalization of $24 billion, it is one of the largest players in the field. Because the company is only seven years old its dividend history is short, but the 7% yield is attractive.
Brookfield Property Partners as an investment
BPY grows its business by borrowing money and investing it in the real estate market. As such, it has certainly benefited from it's strong BBB credit rating and the low interest rate environment of the last decade – a decade in which real estate valuations have grown considerably. Still, the stock price has stagnated since it was spun off from Brookfield Asset Management in 2013. Is this a great contrarian buying opportunity or a warning to stay away? Here are some things to keep in mind when considering BPY as an investment:
Pressure on bricks and mortar retailers, especially from online competitors, has lead to increased bankruptcies of BPY's tenants. Although they report 75% of the vacancies have been re-leased, will this trend continue?
BPY is highly leveraged with debt
BPY is obligated to pay its parent company fees and distributions of roughly $45 million per year
Profits will suffer if interest rates rise faster than BPY can raise rents
The "dividends" paid by BPY.UN are not like the dividends paid by other stocks on our list. These distributions are mostly a combination of capital gains and foreign dividends (click HERE for the details). If you hold BPY in a non-registered account, be aware of the tax implications and remember that a T5013 will need to be filed.
Conclusions
It's probably clear by now that I am apprehensive about Brookfield Property Partners L.P. as an investment. The company is young, the dividend history short, and the degree of leverage makes me uncomfortable. But, as I said from the start, I am no stock analyst and I would be happy to hear from others who may have come to different conclusions.
In the meantime, here is our Beating the TSX portfolio for February: