As I write these words, the TSX Composite is down 11.2% in the last week – officially a market correction. News headlines are screaming that it's the fastest sell-off in history. The talking heads on BNN are turning shades of green, warning that this might be "the big one". How are you feeling about your investments?
No one knows how this is going to turn out – expert or not, they're all just guessing. Some will guess right and feel validated; some will guess wrong and regret it. Others understand there's no point in guessing.
Welcome to your stress test
These events are historic – another serration on that jagged chart of stock market performance we've gazed at so many times. How noticeable it will be in the end remains to be seen. But it is a learning experience nonetheless, a stress-test of our investment plans.
I know people who are so jacked up with anxiety that they can barely sleep, their index fingers quivering over their computer mouse, agonizing over whether to sell everything. Others shrug off the news, drink their coffee, and start that novel they've wanted to read since Christmas. Same market news. Different reactions.
If you find yourself taking this correction calmly and dispassionately, congratulations: you followed the advice of many wise investors (and this blog) and created an investment plan that was rational and suited to your temperament. If you are more like the anxious insomniac obsessing about selling for fear of losing more, well, let's just call this an opportunity to make things right. To adapt a well known investing axiom: the best time to make an investment plan was yesterday; the second best time is now.
How did you prepare for the wild times?
To be fair, how you feel about market corrections depends on more than whether or not you have a plan. Perhaps Morgan Housel said it best in a piece he wrote in 2018:
There are two ways to prepare for wild times: You can expect them to come, or you can predict when they'll come. The former is realizing that throughout your career things will occasionally get wild ("Expect about two recessions per decade, on average.") The latter is predicting that things will get wild at a specific time ("A recession is coming this year.") The former isn't hard and helps, latter is extremely difficult and often backfires.

Morgan Housel, Collaborative Fund
Have you really accepted that you can't predict the market or, deep down, in your heart of hearts, are you still justifying some undiscovered market timing skill?
Top 5 things not to do during a market correction
As bad as this correction may feel, there are all kinds of ways investors can make it worse.
Ben Carlson wrote a great piece on things that won't help you during a market correction. I will paraphrase here:
Go to cash. Maybe you had too much money in the market before the correction, but that doesn't mean 100% cash is right either. Extreme times don't call for extreme measures, they call for moderation. And if selling now is hard, don't forget you are also going to have to figure out when to buy back in – and that is much much harder.
Beat yourself up. Markets look easy in hindsight. Every investor has weaknesses. We can't control the markets, but we can control our investing process. Forgive yourself, put together a plan that you can live with through ups and downs, then ride it out. We're all losing money (temporarily) – join the club and exercise a little patience.
Engage in technical analysis. The enduring allure of charts and their siren song of market prediction is a sad and wonderful example of how gullible we are. When you're on your heels flailing around for a financial handhold, it can be tempting indeed to reassure ourselves with a little pattern recognition. Don't fool yourself. Technical analysis is a game, not an investment strategy.
Adopt a short-term strategy to profit from the coming crash. We are wired to escape pain and financial pain is no exception. Studies show that discomfort leads to cognitive interference: we don't think straight. Now is not the time to rush into options trading, buying the dips or go treasure hunting for the next ten-banger. It's hard to do when emotions are running high, but what you need is a long term strategy, not a quick fix.
Start trading based on the financial news. Think you can get ahead of the pain by reacting to the latest headlines or analyst report? Think again. That news is already baked into the price. In times of uncertainty, we seek leadership, someone to shine a light so that we can understand and control, even just a little, the randomness that batters us. Bad news: they don't know any better than we do.
Some practical advice
Now that we've covered what not to do, here's a little advice. If a 10-20% drop makes you question your investment strategy, it was not the right strategy for you. Don't wait, fix it now.
But remember that in times of stress it is harder to make sound decisions. There are people all over the world making all of those mistakes and more, thinking they are "fixing" a problem. In time, most of them will have made things worse. It can be tempting to over-complicate the situation, but my advice is to steer toward simple.
Were you stock picking even though you knew you shouldn't? Stop. Now is a good time to adopt a rules-based approach (like BTSX or low cost index ETFs).
Were you trying to time the market? Accept that you can't and do what you always knew was right anyway: buy and hold.
Did you have too much money in the stock market and not enough in cash/bonds? Now that you have a better idea of your volatility tolerance, adopt an asset allocation that makes sense for you.
BTSX: a solid game plan
It is what we do during times like these that has the greatest impact on our lifetime wealth. Don't let market volatility lead to emotional volatility. If you have a good plan, the best thing to do is nothing.
This isn't the end of the game; just one play among many. Elite athletes don't change their game plan every time the other team scores; they focus on their process. So should we.
Don't aim for perfection. Being consistently 'good enough' is a much more reliable strategy. Beating the TSX has not been immune to market corrections, but as you can see from this chart, it has certainly been good enough.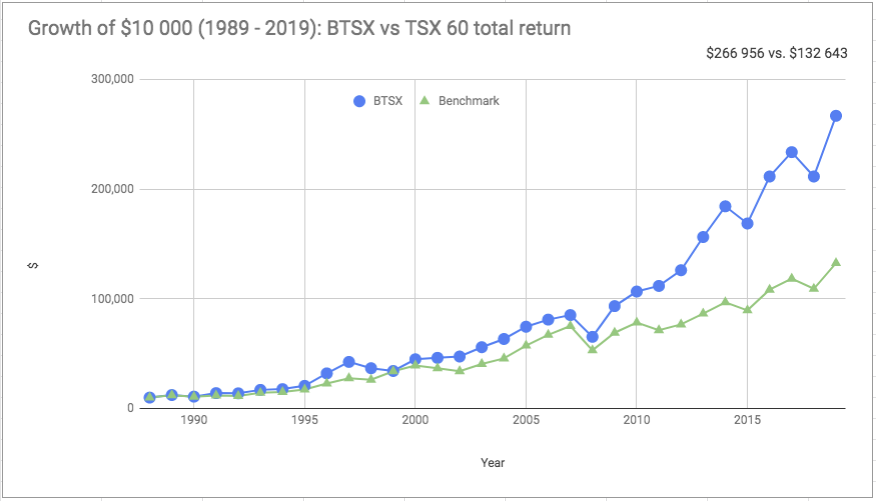 BTSX March 2020 portfolio
Here are the top ten yielding stocks of the TSX 60 – the BTSX portfolio for March 2020. To be clear, this is to help those who are constructing a long term portfolio, not a suggestion to re-jig our portfolios monthly.
As you can see, even in these challenging times, the benefits of Beating the TSX are already becoming apparent. First, recent price declines have popped our average yield up to 6%. Second, multiple companies that are either on the list or have been recently have announced dividend increases including TD, RY, MFC, TRP, and SU. Remember: BTSX stocks tend to display less volatility than the markets as a whole and tend to perform relatively well when the scales tip toward fear from enthusiasm.