How did your investments perform in 2019? Some will be surprised that it was such a good year. The S&P/TSX Composite Index returned about 22% including dividends. The bad news for mutual fund investors is that, as usual, the vast majority of actively managed funds performed worse than the index – so much for "professional" management. But what about "Beating the TSX" – was it able to live up to its name? Here's the data: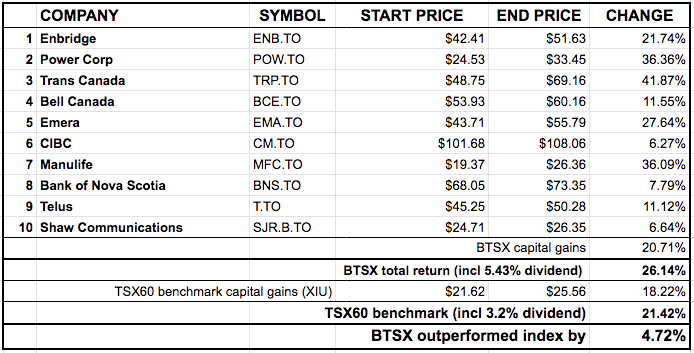 "Beating the TSX" did indeed live up to its name in 2019, beating the TSX 60 by 4.72% based on total returns (capital gains and dividends) – a 22% advantage over the index. This is a welcome turn-around after a slightly disappointing 2018.
Still, it's the long game that matters and the long term performance of BTSX is nothing short of remarkable. Even though I've been using the strategy for over a decade, I am still amazed at the BTSX track record.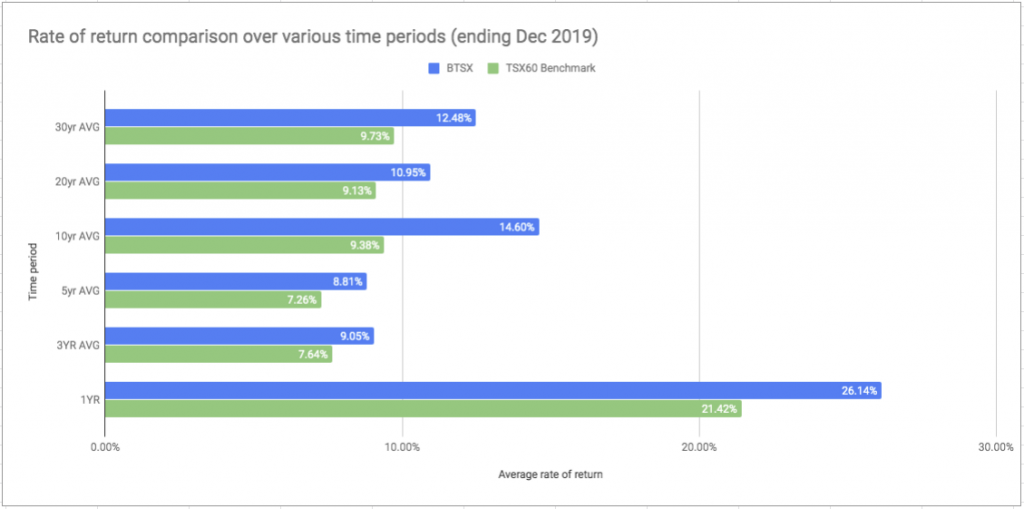 In an era of index ETF Couch Potato investing where it is blasphemy to mention beating the index, we are doing just that. No matter what time frame one chooses, from a year to thirty years, BTSX has outperformed the index. I have not been able to find a single professionally managed fund accessible to the average Canadian investor with this kind of record.
Why does BTSX work?
Perhaps we don't require an explanation in light of the performance data, but I will give it a shot. To beat the index there must be characteristics of these companies that make them better-than-average investments. Here is what I think those characteristics are:
profitable
investor-focused
boring
Let's take these reasons one by one.
Profitability
First of all, Beating the TSX selects stocks from the TSX 60 index which is comprised of the largest and most established companies in Canada. Unlike many smaller companies that are engaged in the risky (and costly) process of trying to establish themselves in the marketplace, BTSX stocks tend to be mature and profitable year after year.
Investor-focused
Mature businesses also tend to be investor-focused rather than growth-focused. In contrast, many of the companies trading on the S&P/TSX Composite have negative earnings and small cash reserves; any profits they have are plowed back into the business in hopes of larger profits down the road. Buying such stocks is buying hope. Beating the TSX, on the other hand, selects for large, profitable companies that have shown a commitment to returning earnings to shareholders on a regular basis in the form of dividends. Buying these stocks means buying a steady income of real profits.
Boring
BTSX has a stellar long term record but it is exceedingly unlikely that the this portfolio will ever double in value in a year. Ours is a strategy of base hits, not home-runs. Swinging for the bleachers is a good way to strike out; sure, you'll enjoy a few thrilling moments, but you'll lose in the long run. Perhaps that's why BTSX is not in widespread use – it's too boring.
BTSX stands out
I'm not the only one touting the benefits of dividend investing in Canada – even the big banks know that dividend paying stocks outperform – but as far as I know, Beating the TSX has the longest verifiable record of superior returns in the Canadian market. Furthermore, it is a method that anyone can follow.
Of course, future results are not guaranteed but the factors that make BTSX work are durable; regardless of market trends and investor sentiment, these companies should continue to be profitable, investor-focused, and boring. No one should blindly follow an investment strategy expecting the future to mimic the past – please do your own research. But I am just as comfortable investing in BTSX stocks now as I was ten years ago.
After 30 years 2.75% equals 100%
By now we've all likely seen the horrifying charts illustrating how a measly 2.5% mutual fund MER can crater one's wealth over time. It should come as no surprise then that the same principle of compounding applies in reverse. Over the last 30 years, BTSX has beat the index by 2.75% (geometric average). This might not sound like much, but the effect is huge: after 30 years, the BTSX method would have accumulated twice as much wealth as the benchmark index fund.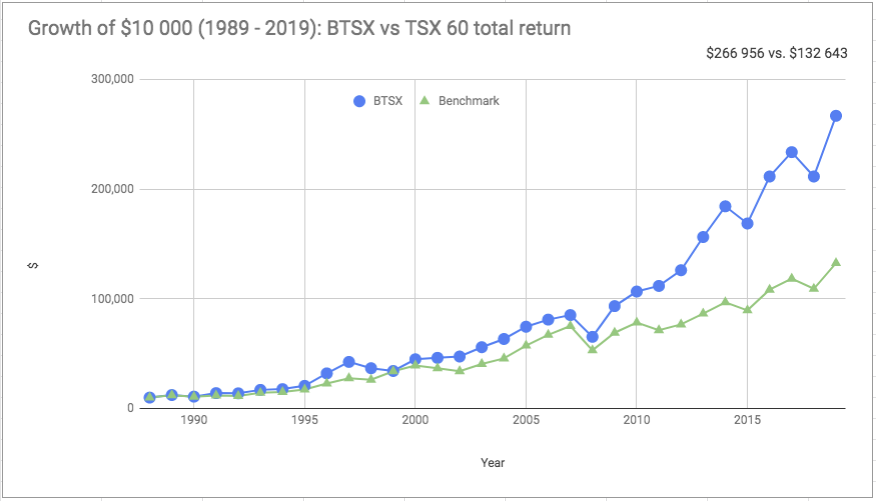 Some other benefits of BTSX
One might assume that results like this require unusual skill and a high workload. Wrong. BTSX is easy to understand and simple to execute. The portfolio and how it is generated is freely available to everyone.
Some might think that high returns must be paired with gut-wrenching volatility. Wrong again. Dividend paying stocks, and BTSX stocks in particular, have lower than average volatility.
What about the risk of dividend cuts? Of course, this risk is real and does happen on occasion to BTSX stocks, but more often than not BTSX stocks raise their dividends rather than lower them. In 2019, eight of the ten stocks raised their dividend during the year; overall dividend income increased 5.23%. This is in line with what we've come to expect from BTSX stocks (last year dividends rose by 4.8%) and more than compensates for inflation.
BTSX portfolio 2020
Looking forward to 2020, here is the BTSX portfolio:
Summary
BTSX out-performed the benchmark TSX 60 index by 4.72% in 2019 (total return)
BTSX has out-performed its benchmark over the last 3, 5, 10, 20, and 30 year time periods
The factors that make BTSX effective are durable; its advantage over indexing is not by chance and will likely continue
Beating the TSX is a simple, low-maintenance strategy that is accessible to all investors