Being a self-directed investor has enormous advantages: more control, less complexity, and often higher net returns, to name a few.  But there are also risks and one of the big ones is age.  How might the aging DIY investor design his/her portfolio so that it is simple enough to remain self-directed, but durable enough to provide the necessary income for life?  In my experience, very few bloggers have addressed this topic, so I'm honoured to have David Stanley, the originator of Beating the TSX, back on the blog to tell us about one potential solution – what he calls a "Perpetual Portfolio".  
I want to consider a big problem that all investors will face if we live long enough: the problem of what to do with our investment portfolio in our old age.
If we haven't outlived our money and if we have followed the precepts advocated in this blog, we will have a portfolio of common stocks that have grown both in value and in dividends over the years. It seems probable that at some point the majority of us will have been ground down enough by our time on this earth that our ability to make the necessary decisions required to prudently control our own finances will be diminished or lost. What to do?
I have discussed with you previously some things we can do to handle this, e.g., hand our financial matters over to a fiduciary, solicit the help of a trusted family member or friend, distribute the assets to our heirs prior to death, etc. But is there another way?
Suppose we could convert all our financial assets into a single perpetual portfolio that would continue to spin out the cash needed for our living expenses but require no human intervention, or at least no professional financial intervention other than what could be provided by a competent tax accountant. 
Characteristics of a Perpetual Portfolio
Let's spend a little time exploring the feasibility of a perpetual portfolio. I think the criteria would have to include:
A range of investment classes
Assurance of sufficient distributions to meet our requirements
A reasonable price and low risk.
That sounds to me like it could be a job for group of low-cost index ETFs. 
Part 1 of the Perpetual Portfolio: ETFs
Let's see what we can find that might fulfill our needs. I have decided to just look in the Vanguard family of funds, but this is only because I am familiar with them from my own investments, and it should not be considered as either an endorsement or an attempt to preclude other fund families that might be able to do a better job at a lower cost. 
Table 1 below provides data for nine Vanguard ETF's as of November 18, 2022. These ETF's vary as to their bond/equity ratio and the country in which the index is domiciled, but all are denominated in CAD. It is important to note that all them are true index funds. They may be amalgams of different indexes but they are still inherently passive in nature. 

When we examine these data it seems that the best returns over this short period come from simply holding the Canadian stock index (VCE), but we must remember that bonds, especially diversified government bonds, add stability and safety to stock portfolios even though their returns are not as high. Also, stock and bond returns have low correlation historically, i.e., when stocks go up bonds tend to go down and vice versa.
Thus, a balanced portfolio should allow us to participate in the stock market's gain without taking on too much risk. The traditional allocation of a blended portfolio has been in the neighbourhood of 60% stocks and 40% bonds (VBAL). Our limited performance data point to an 80/20 split (VGRO), but I doubt if the difference between these two would be significant over longer time periods.
I should point out in passing that both these ETFs contain about 25% of non-North American equities and bonds providing even more diversification. So, it seems that when thinking about returns, safety, and cost these two ETFs should be considered.
Income matters
But, there is another very important factor we need to look at and that is yield or payout. Will 2.2-2.4% be enough to fund what remains of your retirement? If not, we need to continue planning.
Related: Read about why most retirees are reluctant to sell assets for income
We can get a higher yield by increasing the bond component of the ETF. Thus, VRIF offers a tempting 4.8% but these are unusual times and whether this trend will hold or not is unknown. Higher yields on shorter-duration bonds have flattened the yield curve, which often denotes uncertainty ahead for financial markets.
For me, I would need something closer to 4% return to be confident going into the future, remembering that at any time I or my mate might have to enter a long-term care home for an unknown period of time. In Ontario costs for these facilities are often over $20,000 per year and rising. Yes, one can obtain 'Long-Term Care Insurance' but it is very expensive. The future is filled with unknowns for seniors, and having sufficient savings can make a real difference in our quality of life. 
Part 2 of the Perpetual Portfolio: BTSX stocks
How can we achieve a higher payout from our investments going forward? I have decided that rather than convert my entire portfolio into to VGRO/VBAL units I am going to retain the foundations of my 'Beating The TSX' TURF portfolio. This is shown in Table 2.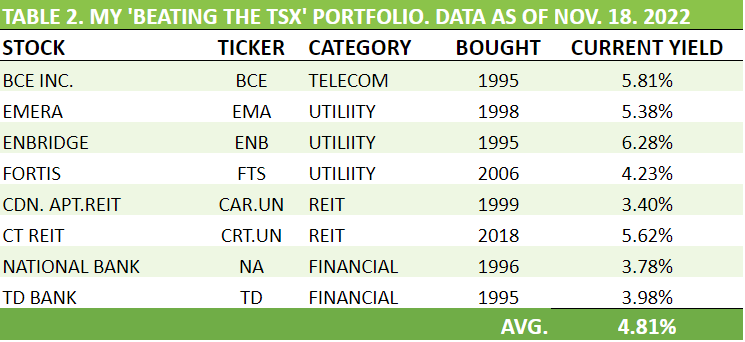 These 8 stocks, most of which I have held for close to 30 years, are to me the epitome of Canadian blue chip companies (yes, the REITs may be an exception but I hold them for diversification and safety). The high dividends (weighted average yield over 5%) from these stocks should help boost my overall return significantly. 
And there is another reason to hold onto these stocks. If I were to liquidate them in order to purchase ETFs I would be facing a very large capital gains tax bill. I'm sure you know that in Canada when we sell an investment at a profit, 50% of the total capital gain is taxable at our marginal tax rate. As you might imagine, selling stocks like those in Table 2 after they have compounded for such a long time would make the folks at Revenue Canada ecstatic.
Part 3 of the Perpetual Portfolio: Preferred Stocks
I have one more thought to increase the payout from my ETF portfolio. Currently I own a portfolio of 10 perpetual and rate reset preferred stocks that I started putting together about 15 years ago. They average a yield of close to 7% and I use them as bond proxies. In my opinion they are a safe substitute; also, they pay dividends instead of interest, meaning higher after-tax returns in a taxable account. I would keep these preferred shares since in a rising rate environment the rate resets will only increase in yield. 
Final Thoughts
Thus, if I wound up with a portfolio consisting of equal parts of VGRO, VBAL, my BTSX stocks, and my preferred stocks, they would provide me with a yield of a little more than 4% with room for increases, the safety of wide diversification at a reasonable cost, and an autopilot function to ensure peace of mind. Note that neither the BTSX or preferred portfolios need day-to-day supervision. 
But what about our RRIF and TFSA accounts? Some seniors will have active RRIF accounts when they hand over the reins while others will not since the mandated withdrawals are age-related. All should have a TFSA account. The investments we have identified here are suitable for either vehicle. 
So, how would we set up these accounts? One way could be to utilize a low-cost on-line brokerage. While you would be the owner of record it would important to have someone else who could act if you were to become incapacitated. Obviously, this person must be worthy of your trust and be capable of acting in a fiduciary manner. I would suggest that all these set-up items be dealt with as soon as your decision has been made so that the process can be tested and any alterations implemented while you are still in good health. 
There you have it, a first attempt at trying to provide a feasible approach to dealing with your investments when you no longer want to or can't. Let me know what you think in the comments. 
Matt here . . . I just wanted to send out a huge thank you to David Stanley and others who support this site.  Your donations are enormously appreciated and go a long way toward keeping this site free.  In particular, I wanted to recognize DividendStrategy.ca's most recent top supporters – thank you!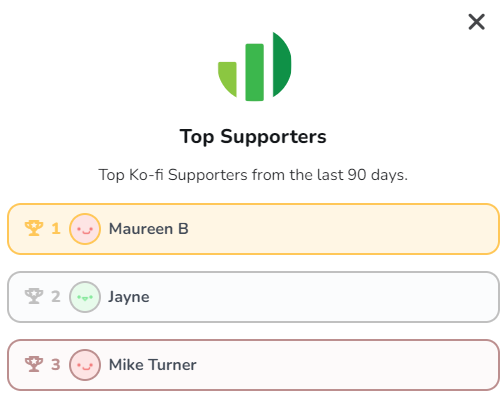 If you would like to support this site, click here: